Team and team spirit – this is what drives our kitchen forward and and which does not make any compromise. The dynamism of Laurel is natural since the average age of our team is 26 years. Youthful determination is combined with top-notch professional knowledge, creating a team of real characters and personalities. Our deepest respect for gastronomic traditions goes hand in hand with our love of innovations and progressive cuisine that is fused into harmony in the dishes that we put in front of our guests. We really are obsessed with flavours.
With regard to the special situation at the moment we can only offer a set menu. We ask for the patience of our vegetarian and vegan guests, but under the current circumstances we cannot satisfy your needs in true Laurel quality.
Our Menu "Illusion" showcases the progressive, daring and refined side of our kitchen. Surprising flavour pairings, vivid acidity, Asian fusion elements, youthful dynamism present themselves on the plates. In safety, here in Hungary but still with the illusion of travelling, the illusion of restaurant experience. Since we still cannot travel freely in the World, our sommelier team was aiming at procuring wines that can conjure up the "illusion" of travelling abroad. With the wine pairings to the menu as well as with the wines by the bottle there are more foreign wines than usual, from all corners of the World: Argentina, California, New-Zealand, South Tyrol, but there is also a rich selection of Hungarian wines.
​
Price: 33,000 HUF
Wine pairing: 18,000 HUF
The prices do not include service charge.
Our menu contains gluten, soya, lactose, milk protein and nuts. Under the current circumstances we are unfortunately unable to manage allergies and vegetartian/vegan options, neither can we offer replacement courses.
For further details or questions about allergies please do not hesitate to contact us!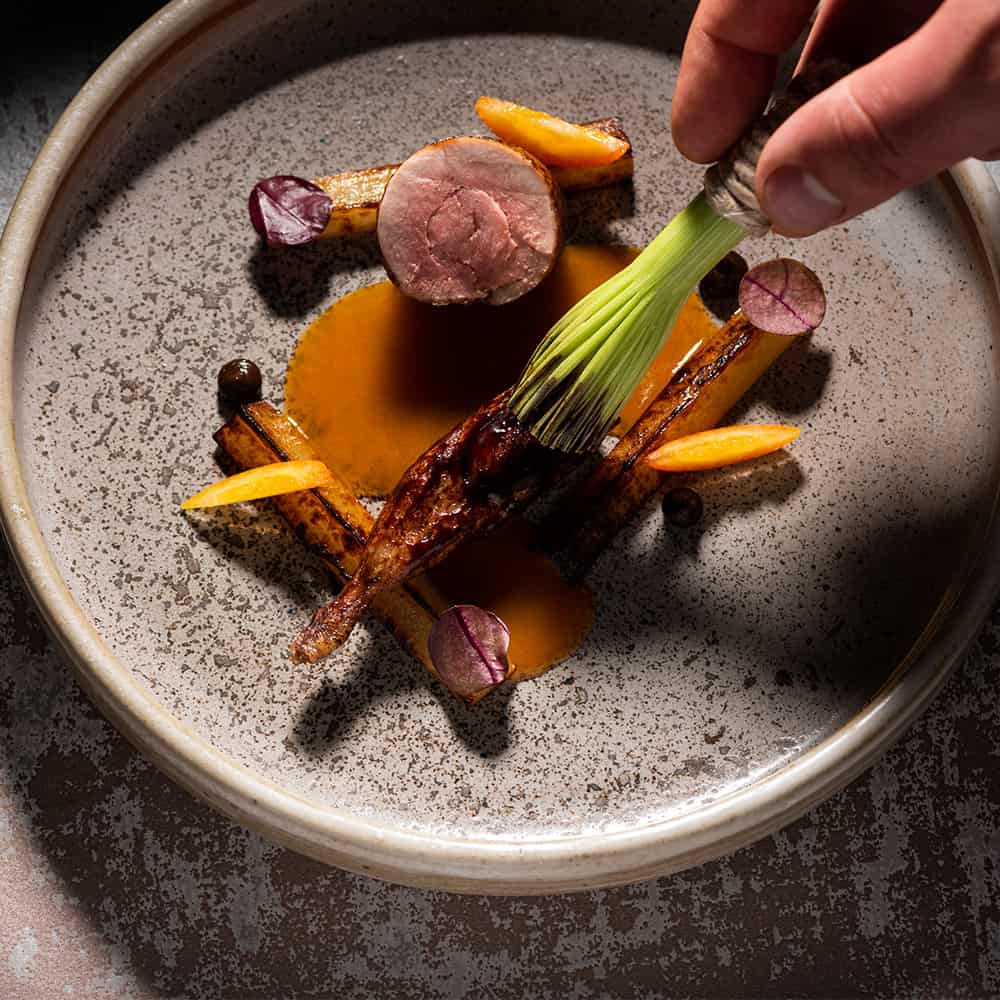 Terlan "Winkl" Sauvignon Blanc 2019
(South Tyrol, Italy)
Sweetbread, Sage, Brown butter
Taille Aux Loups:
Les Hauts de Husseau 2018
(Montlouis Sur Loire, France)
Liver pudding, Wasabi, Apple
Parsley root, Passionfruit, Chervil
E. Gascón: "Candela"
Chardonnay-Viognier 2019
(Mendoza, Argentina)
Beef tataki, Miso dashi, Brioche
Brazin: Old Vine Zinfandel 2017
(Lodi, California)
Pineapple, Bergamot, Tonic
Pajzos: 5-puttonyos Aszú 2006
(Tokaj, Hungary)