Team and team spirit – this is what drives our kitchen forward and and which does not make any compromise. The dynamism of Laurel is natural since the average age of our team is 26 years. Youthful determination is combined with top-notch professional knowledge, creating a team of real characters and personalities. Our deepest respect for gastronomic traditions goes hand in hand with our love of innovations and progressive cuisine that is fused into harmony in the dishes that we put in front of our guests. We really are obsessed with flavours.
Our restaurant offers set menus with either six or eight courses. The seasonal six-course menu is renewed season by season. The eight-course Chef menu consists of our Head Chef, Adam Mede's signature dishes. Upon our Chef's decision, some of the ingredients might change, please take this into consideration when making a reservation for a later date.
Our menus are meant per person, they cannot be shared at the table.
Laurel classics with autumn vibes. Our refined signature dishes that clearly show our commitment to local ingredients, meat (beef short rib, quail, pheasant), fish (sturgeon, trout) of the highest quality. This menu showcases well-known, memory-evoking dishes (fisherman's soup, flatbread, layered honey-cream cake) in a surprising and playful form.
When chosing the wine pairings, the most important aspect was that the dish and the wine provide a more profound enjoyment together than they would on their own. Thus we have wines from all over the World: the nearby Eger region, from Spain or even South Africa, finishing the menu almost inevitably with Tokaji Aszú, a beautiful noble sweet wine from Hungary.
27.000,- HUF
Wine pairing: 18.000,- HUF
Non-alcoholic beverage option: 9.500,- HUF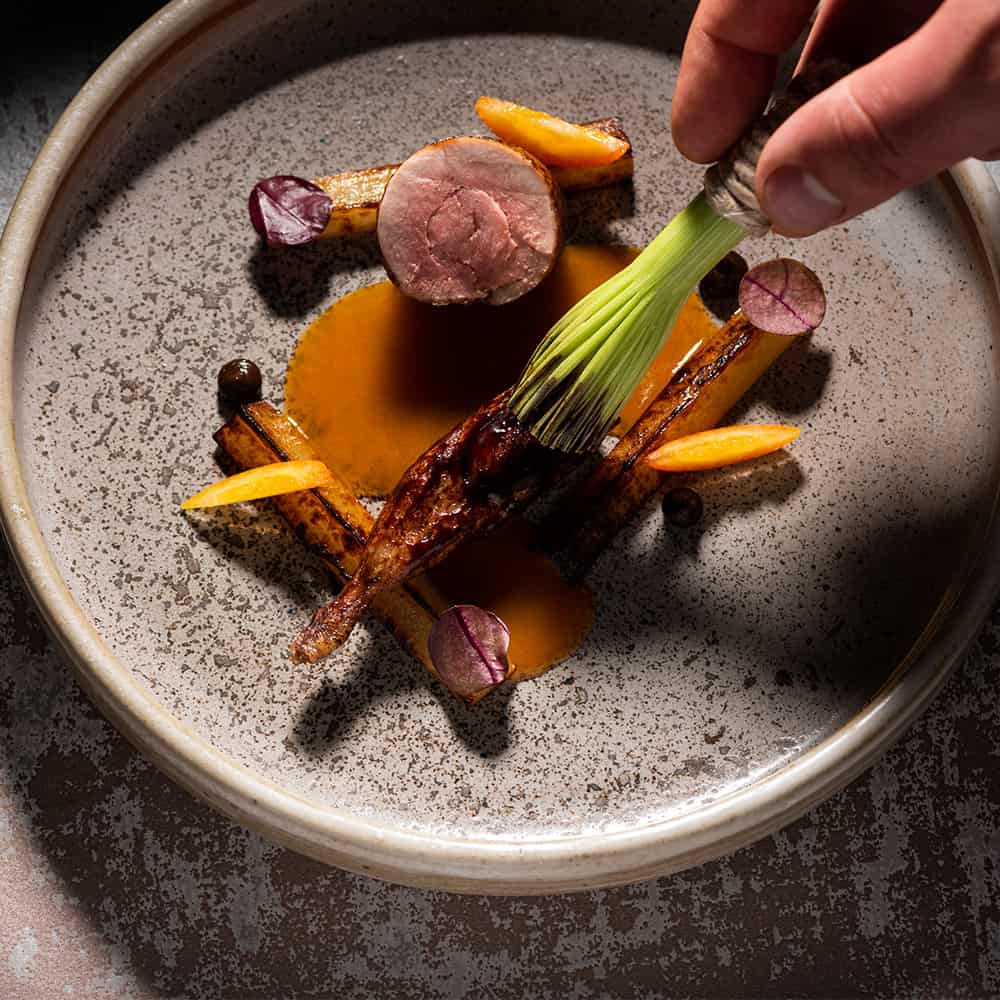 Sourdough bread, Smoked butter
Sturgeon, Cherry, Elderflower
Trout, Kohlrabi, Green apple
Pheasant, Cavolo nero, Jerusalem artichoke
"Catfish stew," Flatbread
Beef short rib, Chervil root, Balsamico
Honey, Semolina, Sea buckthorn
Chocolate malt, Cacao, Salted caramel
We highlight the progressive, experimenting side of our kitchen with this seasonal menu, built exclusively on game: deer, pheasant, wild duck and hare form the backbone of the menu. Striking flavour pairings, daring acidity, Asian fusion elements, youthful dynamism merge on the plates. Wildness from the wilderness.
In one case the vivid acidity of the wine harmonizes with the vibrant sour notes of the dish, in another it washes down the umami flavours of the ponzu, in yet another it counter-balances the sweetness of the wine itself. Exciting wine selection from all over Europe, with rare and indigenous grape varieties.
27.000,- HUF
Wine pairing: 18.000,- HUF
Non-alcoholic beverage option: 9.500,- HUF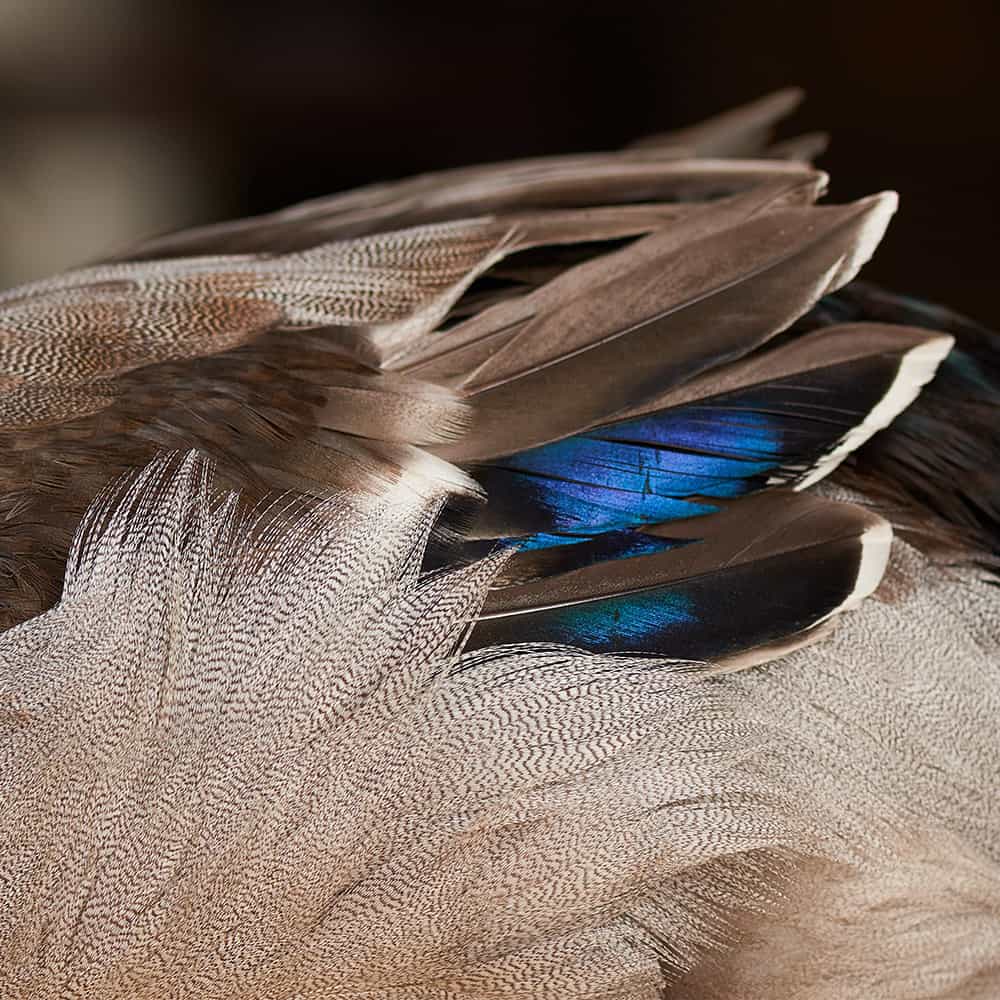 Sourdough bread, Smoked butter
Venison, Red cabbage, Algae
Tempura, Tangerine, Ponzu
Pheasant, Cavolo nero, Jerusalem artichoke
Wild duck, Fermented cabbage, Oats
Wild duck, Potato, Truffle
Black garlic, Blackcurrant, Miso
Dark chocolate, Plum, Umeboshi
Completely plant-based menu composed of the treasures of Nature in autumn. The dishes reflect the abundant richness of the harvest period, of the Golden Days of autumn through the diversity of root vegetables, onions, seeds and autumn fruits. Firm acidity, exciting Asian ingredients, unusual flavour pairings make this menu unforgettable.
This menu might be the most difficult to pair wines with, but this was a beautiful challenge, and we really feel we succeeded. A minerally Hárslevelű from the volcanic terroir of Somló or a crisp, forest berry fruity Mencia from North-Western Spain – stunning and stunningly good companions to the treasures of autumn.
27.000,- HUF
Wine pairing: 18.000,- HUF
Non-alcoholic beverage option: 9.500,- HUF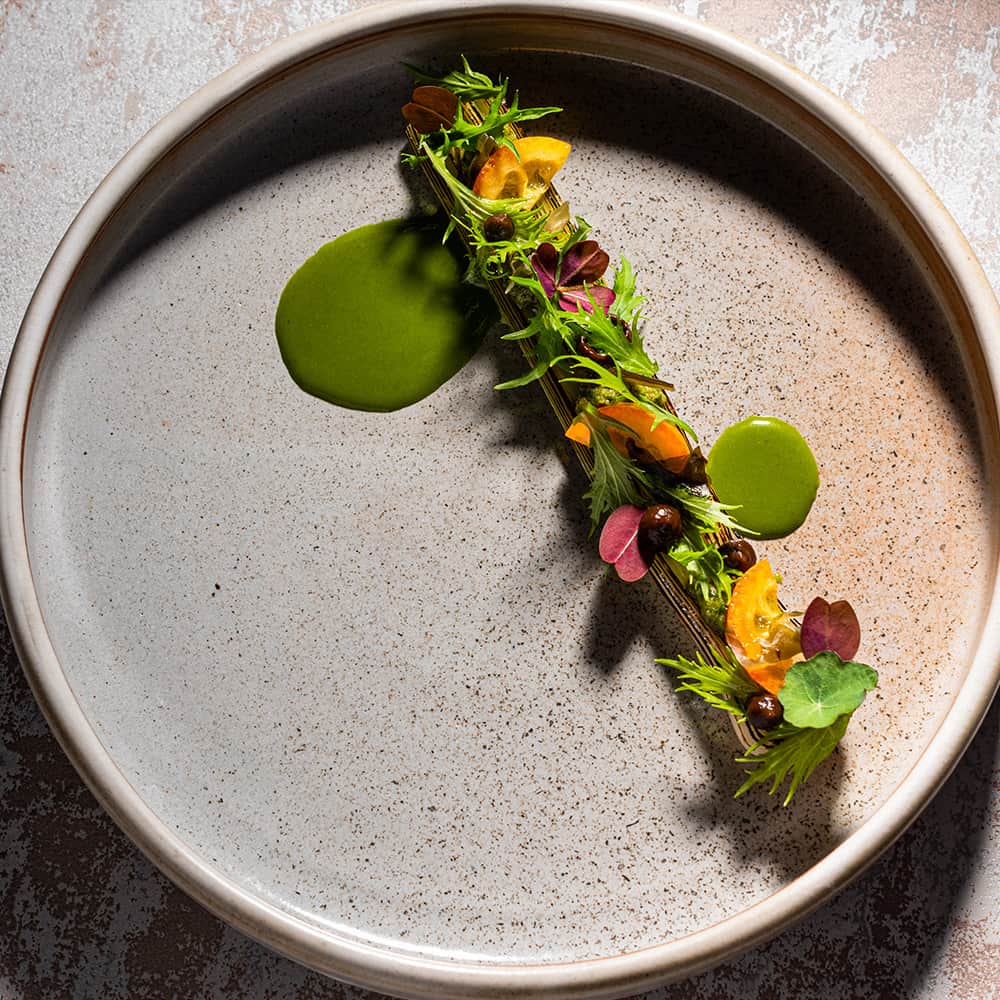 Sourdough bread, Olive oil
Jerusalem artichoke, Quince, Ginger
Tempura, Tangerine, Ponzu
Chervil root, Onion, Balsamico
Pear, Ginger, Black sesame
Sour cherry, Bay laurel, Cocoa bean
16.500,- HUF
Wine pairing: 9.500,- HUF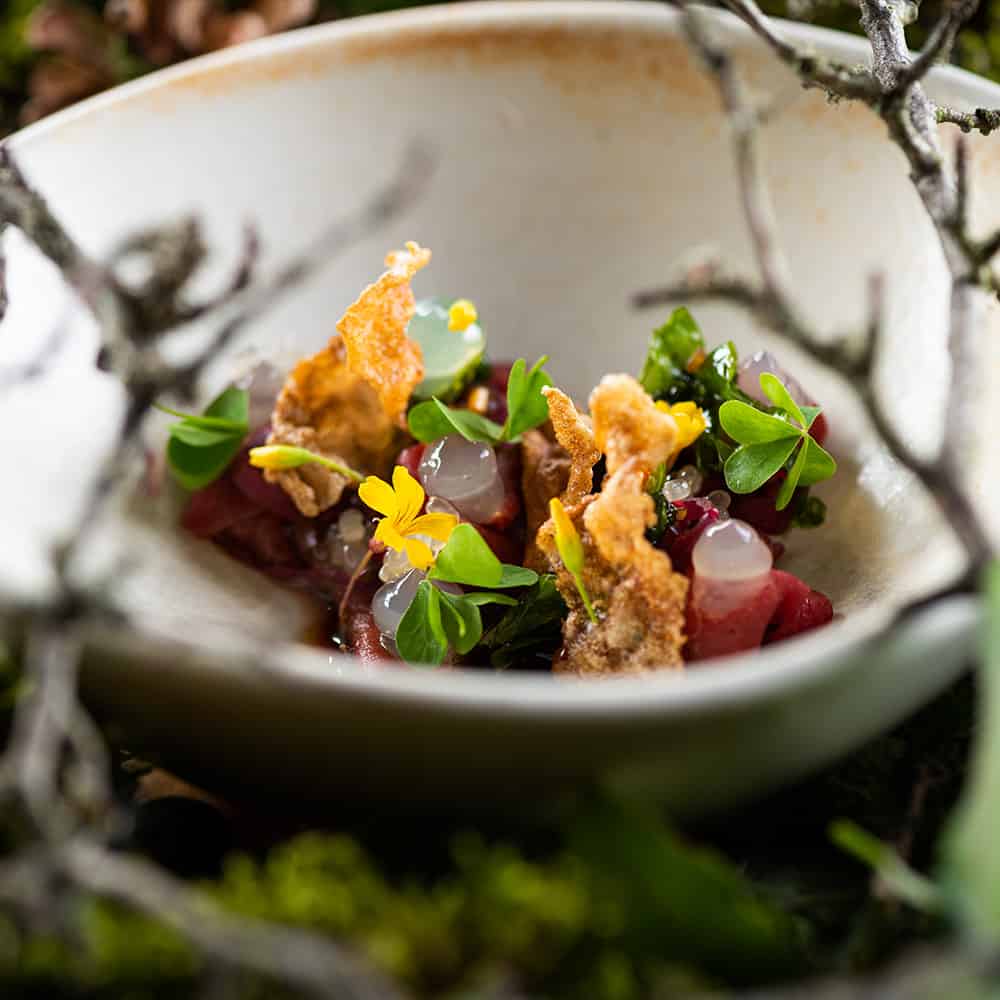 Venison, Red cabbage, Algae
or
Tempura, Tangerine, Ponzu
Pheasant, Cavolo nero, Jerusalem artichoke
"Vadas"
or
Beef short rib, Chervil root, Balsamico
Honey, Semolina, Sea buckthorn
or
Dark chocolate, Plum, Umeboshi