Fine dining restaurant in the heart of Budapest
Youthful determination, fanatic devotion for food and ingredients, unorthodox menus.
We have been presented on Michelin Guide and Dining Guide "top 10 restaurants in Budapest" list several times.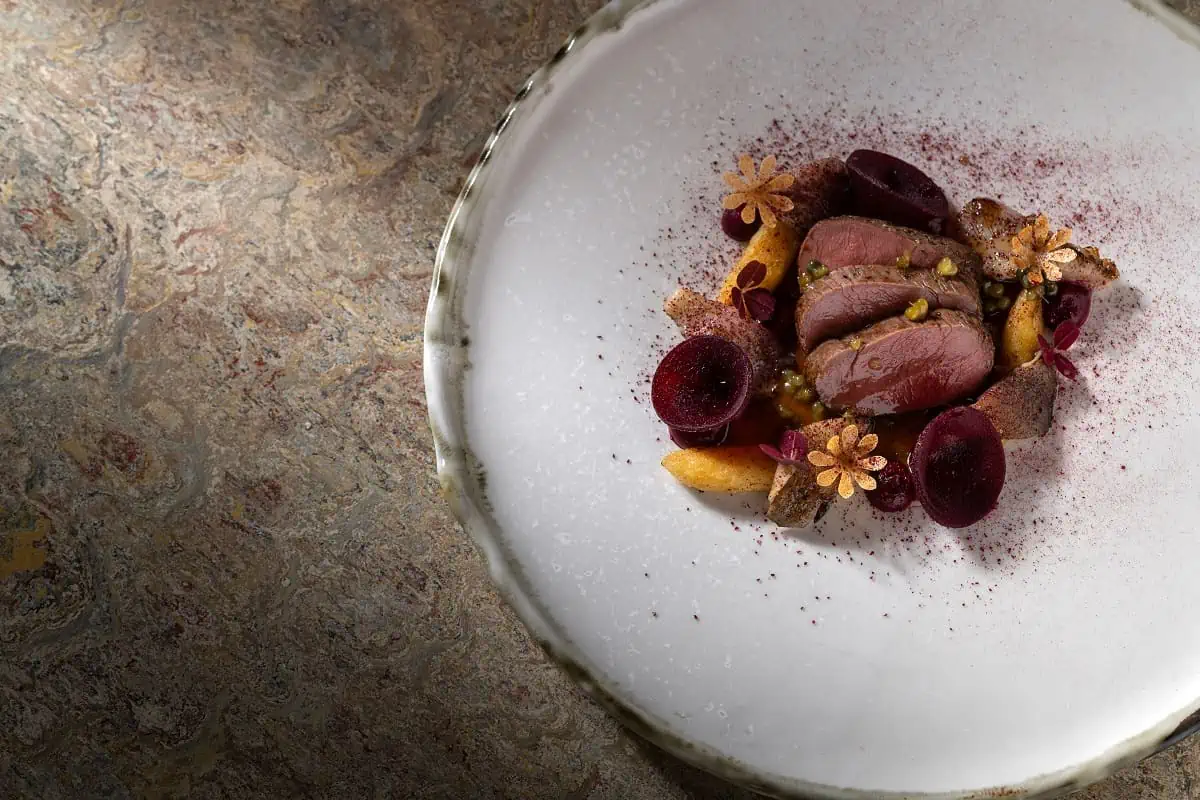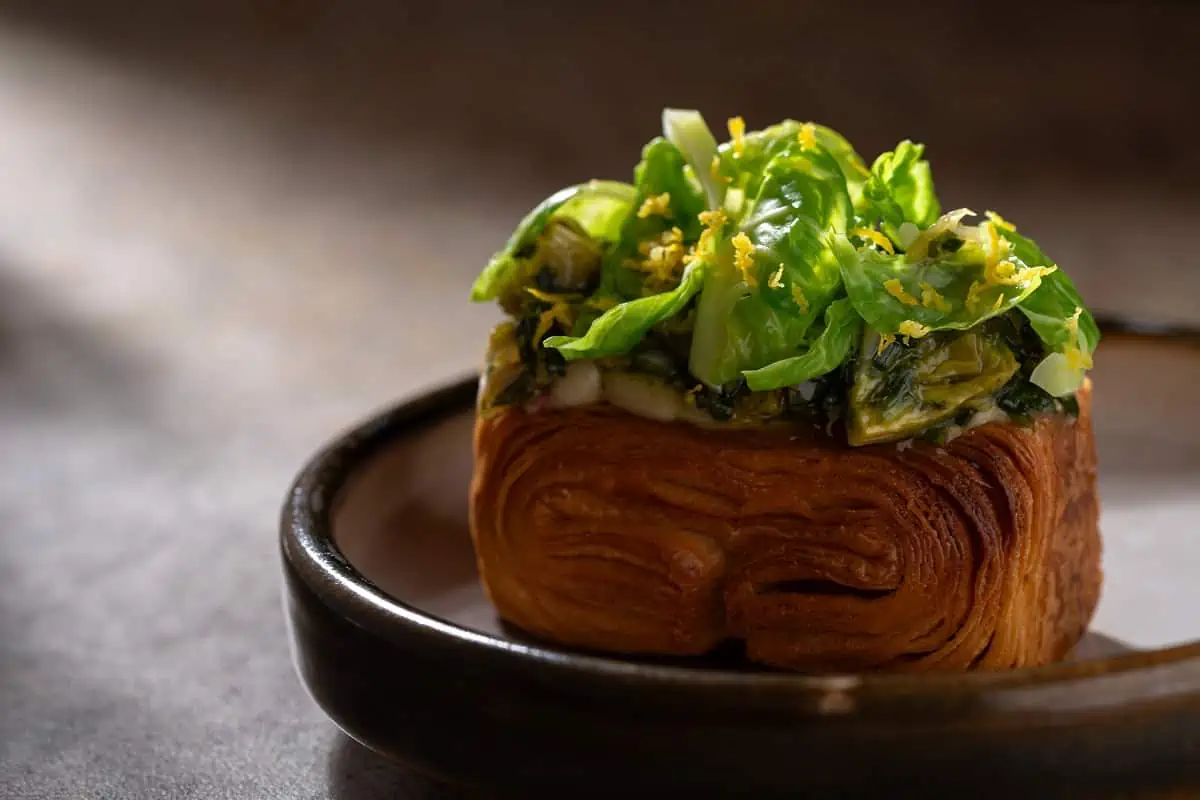 The Laurel Budapest is a modern and creative fine dining restaurant characterised by the respect of Hungarian culinary traditions that are combined with French technologies and the fusion of international, particularly Asian cuisine. 
Our goal is to present the limitless philosophy that we think of the modern Hungarian gastronomy. From the procurement of the ingredients to the selection of wines to serving. To make you feel just like when you are visiting a good friend of yours.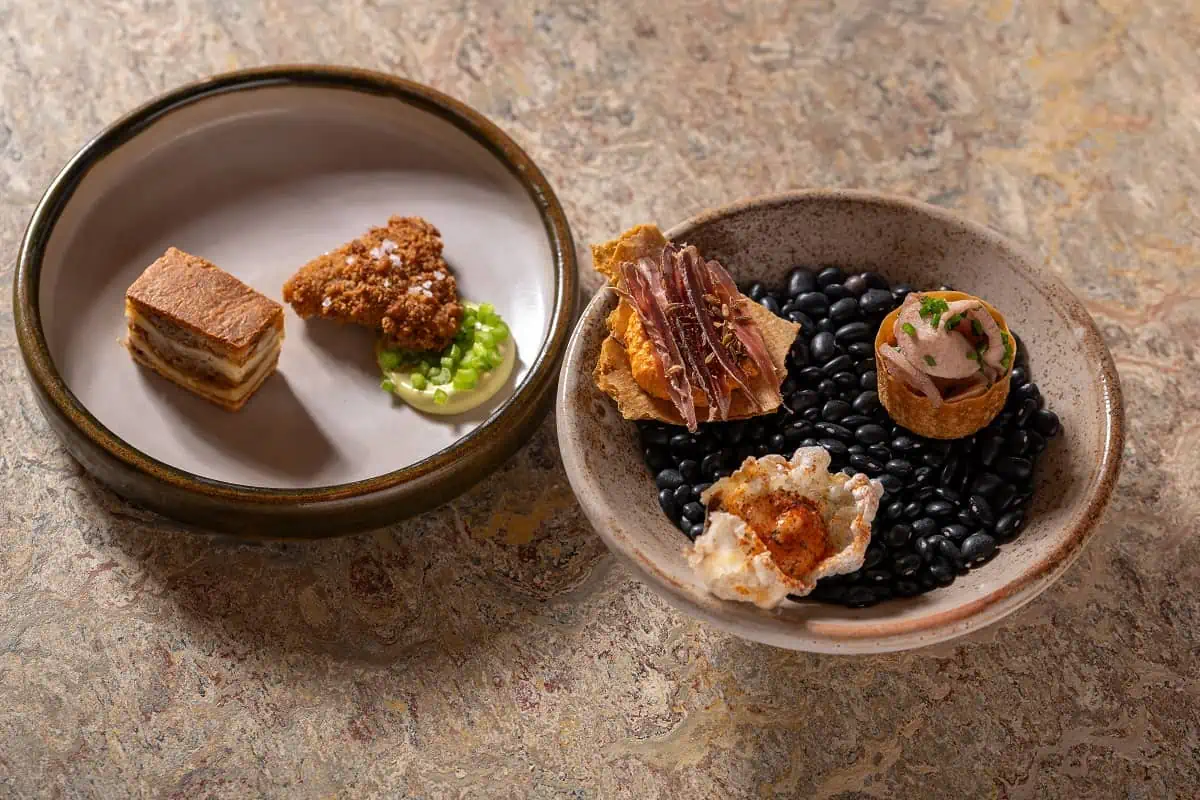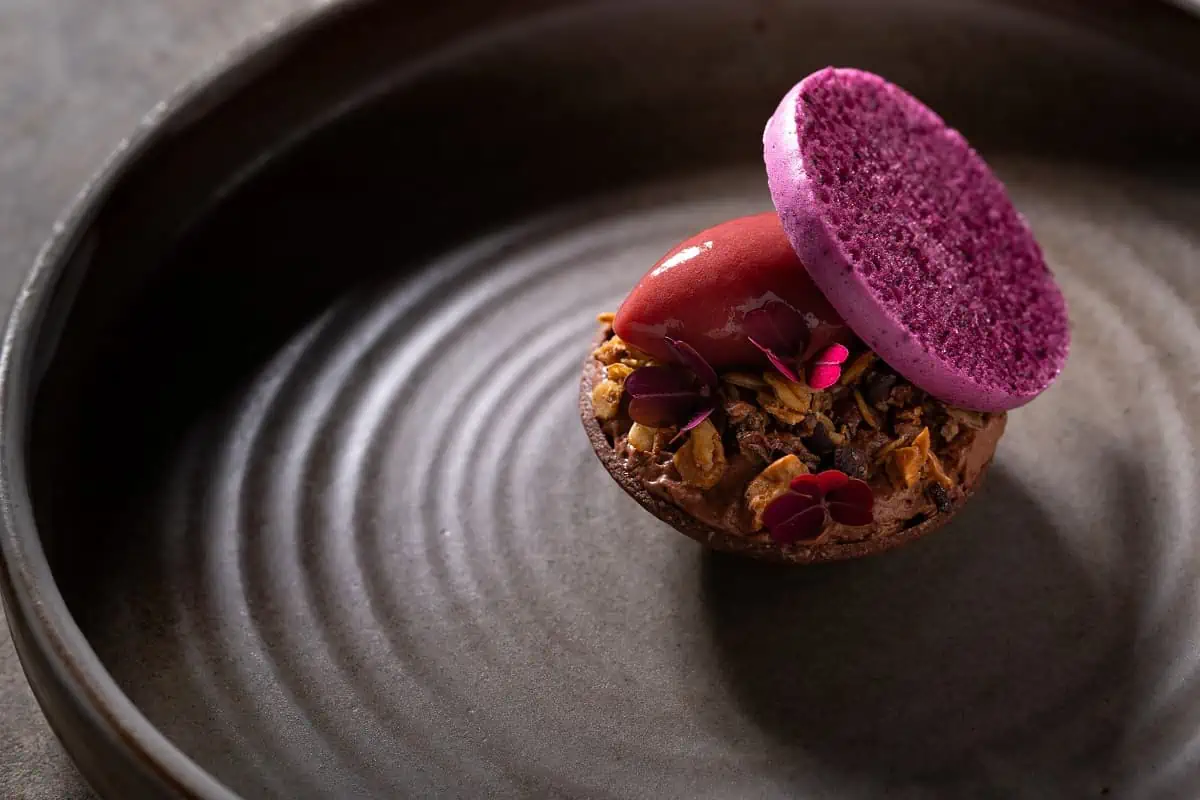 What to know about Laurel restaurant
Tasting menu
There are two tasting menus available – one of them is completely vegan. Both menus include the same number of courses.
Tasting menu: 39 500​ HUF
Wine pairing: 28 000 HUF
Service charge: 15%
How we handle food intolerance in Laurel restaurant?
Please bear in mind that our menus contain crabs and seashells, gluten, soya, lactose, milk protein and nuts. In case of special diets or food allergy, please let us know in advance, otherwise we can't make changes on the spot. n case of milk protein allergy or lactose intolerance our kitchen only offers the vegan menu, whereas if you're looking for a gluten free option, we can serve you a slightly shortened and modified choices of dishes. Please be noted that our dishes are prepared in the same kitchen area, that's why accidentally they might, even under the greatest care, contain some allergen particles.
How to prepare to visit our fine dining restaurant?
Please make sure you arrive on time to help us to provide the best of the services. Athough we are a fine dining restaurant, there is no dress code in our top restaurant; comfort and customer satisfaction are our primary concerns.
What characterizes the fine dining scene in Budapest?
Nestled along the banks of the Danube River, Budapest, the enchanting capital of Hungary, has emerged as a hidden gem on the international culinary stage. Combining a rich cultural heritage with a vibrant food scene, the city offers an array of fine dining experiences that cater to the discerning palates of locals and tourists alike. From traditional Hungarian dishes to international cuisine, Budapest offers an array of culinary delights that cater to every palate, ensuring you'll find the best food in Budapest, regardless of your preferences. With a fusion of traditional Hungarian flavours and innovative gastronomic techniques, the Budapest fine dining scene is a true delight for food enthusiasts seeking unforgettable culinary experiences.
Budapest's fine dining establishments skillfully blend the best of traditional Hungarian cuisine with contemporary culinary trends. While honouring the country's culinary heritage, these restaurants infuse their dishes with modern twists, elevating traditional flavours to new heights. It is not uncommon to find classic Hungarian dishes like goulash or paprikash presented with innovative plating and unexpected ingredient combinations, resulting in a truly remarkable gastronomic experience.
Budapest boasts a talented pool of visionary chefs who continuously push the boundaries of culinary creativity. These chefs draw inspiration from local produce, seasonal ingredients, and international influences to create tantalizing menus that excite the senses. From Michelin-starred restaurants to trendy bistros, Budapest offers a diverse range of dining options, ensuring there is something for everyone.
In recent years, the Budapest fine dining scene has witnessed a growing emphasis on sourcing ingredients locally. This commitment to using fresh, seasonal produce not only supports local farmers and producers but also guarantees exceptional quality and flavours. Chefs take pride in forging direct relationships with farmers and artisanal suppliers, showcasing the finest ingredients Hungary has to offer.
If you're a food lover visiting Budapest, you can't miss out on the opportunity to indulge in some of the best food in Budapest, renowned for its rich flavors and culinary diversity. For a taste of Hungarian gastronomy at its finest, there's no better place than Laurel, one of the top restaurant Budapest, where traditional recipes are elevated to new heights.
What distinguishes Budapest's Michelin-starred and Michelin-recommended restaurants and contributes to their prominence within the city's culinary landscape?
Budapest's Michelin-starred and Michelin-recommended restaurants represent the pinnacle of culinary excellence in the city. These prestigious accolades are bestowed by the renowned Michelin Guide, which recognizes exceptional dining establishments around the world. The presence of such establishments in Budapest underscores the city's thriving gastronomic landscape and showcases the talent, creativity, and dedication of its chefs and restaurateurs.
Michelin stars are the highest honor a restaurant can receive from the Michelin Guide. They are awarded to establishments that exhibit exceptional culinary craftsmanship, quality, and consistency. Budapest boasts several restaurants that have earned Michelin stars, each providing a unique and extraordinary dining experience.
In addition to Michelin stars, the Michelin Guide also includes restaurants that receive Michelin recommendations. These establishments may not have earned stars but are recognized for their excellent cuisine, service, and overall dining experience. Being recommended by the Michelin Guide is a testament to the high standards and commitment to culinary excellence exhibited by these restaurants.
The presence of Michelin-starred and Michelin-recommended restaurants has a significant impact on the Budapest fine dining scene. It elevates the city's culinary reputation, attracting food enthusiasts from around the world who seek extraordinary dining experiences. Michelin recognition not only acknowledges the excellence of individual establishments but also serves as a catalyst for innovation and competition among chefs and restaurants in the city.
Moreover, the influence of these restaurants extends beyond their own premises. They inspire and encourage the entire culinary community, fostering a culture of culinary excellence and raising the overall standard of dining establishments throughout Budapest. This ripple effect contributes to the continuous evolution and growth of the city's fine dining scene, ensuring that it remains vibrant and dynamic.
What is Laurel Budapest?
Laurel Budapest is a modern and creative fine dining restaurant in Budapest characterized by its deep respect for Hungarian culinary traditions, which are skillfully combined with French technologies and international influences, particularly from Asian cuisine. Regarded as one of the capital's finest dining destinations, Laurel Budapest restaurant offers an array of diverse and innovative dishes. Guests can indulge in flavoursome creations, expertly paired wines, attentive service, and a delightful atmosphere. There are two tasting menus available – one of them is completely vegan. Both menus include the same number of courses.
Laurel, one of the top restaurant Budapest consistently receives rave reviews for its innovative menu, impeccable presentation, and a wine selection that perfectly complements each course.
Over the years, Laurel has garnered numerous awards and accolades, of which they take great pride in the following:
Michelin Guide Recommended Restaurant since 2020.
Dining Guide – Top 10 Restaurants in Budapest in 2022, and Top 100 Restaurants in Budapest since 2020
If you're looking for an extraordinary dining experience in Budapest, make sure to visit one of the top restaurant Budapest, known for its impeccable service and exquisite cuisine. Don't wait—book your table today at Laurel Budapest Restaurant.
What is the address of Laurel Budapest?
Laurel Budapest is located at Kertész utca 29, Budapest, H-1073 Budapest downtown, Hungary.
What type of menus does Laurel offer?
Laurel Budapest fine dining restaurant offers a seasonal degustation menu, available in both traditional and vegan options.  Starting the year 2023, Laurel Budapest is open for lunch on Saturdays and Sundays. You can now enjoy a delectable four-course meal, complete with a selection of three snacks and some delightful petits fours, which can be made vegan upon request.
For a memorable evening of fine dining, head to Laurel, one of the top restaurant Budapest, where the elegant ambiance and exceptional dishes will leave you in awe.
Does Laurel offer gluten-free or vegan options?
Yes, this one of the most recommended local restaurants, Laurel Budapest fine dining restaurant also caters for food-sensitive guests, offering a vegan menu for lactose-sensitive guests and a modified menu for gluten-sensitive guests. If you have a special request, please let them know at the time of booking.
What types of wine and champagne does Laurel offer?
The Dining Guide Top 10 Hungarian restaurants awarded Laurel takes pride in their wine vault, which houses 150 varieties of Hungarian and international wines, as well as champagne. Thanks to this extensive selection, in addition to their wine pairings featured on the current menu, you can also choose from a variety of other items.
Does the wine vault of Laurel Budapest offer any kinds of services for their guests?
Laurel Budapest fine dining restaurant under the supervision of Péter Tüű, a two-times sommelier champion of Hungary and Levente Balogh (also one of the most talented young experts) – offers for its wine lover guests rental opportunities in their wine vaults. Inside Laurel's wine cellar, there are 104 vaults where the wine is kept under perfect conditions. Guidance, acquisition, storage, and registering are offered along with serving in a unique environment for the passion of wine.
Does Laurel Restaurant provide wine pairing options for its guests?
Laurel Restaurant presents a selection of three wine pairing options, catering to varying preferences. Guests have the opportunity to choose from a trio of wine glasses, as well as the option of five or seven glasses, tailored to individual desires. The choice ultimately rests with the guest, ensuring a customized and refined wine experience.
Do we need to make a reservation to dine in Laurel Budapest restaurant?
When it comes to savoring an exceptional fine dining experience at Laurel Budapest restaurant, the key to ensuring a seamless and unforgettable meal lies in making reservations. With a strong commitment to providing impeccable service and ensuring guest satisfaction, Laurel Restaurant Budapest wholeheartedly recommends booking a table in advance, either conveniently through their website, www.laurelbudapest.hu, or by contacting their team during opening hours. With just a few clicks, your reservation will be confirmed, and you'll have peace of mind knowing that your table awaits you at one of the best Hungarian restaurants in Budapest.
For those who prefer a more personal touch, Laurel Budapest fine dining restaurant welcomes reservations via email. Simply compose a message with your desired date, time, party size, and any specific requirements or inquiries you may have. Address the email to info@laurelbudapest.hu and our staff at Laurel Budapest will promptly respond to your email, confirming your reservation and addressing any additional concerns.
If you prefer the traditional approach, picking up the phone and calling Laurel Budapest is the way to go. Our friendly and professional host, Bence, will gladly assist you in securing a reservation. Simply dial +36 20 369 5922 and provide the necessary details. We will guide you through the process, answer any questions you may have, and confirm your reservation, ensuring that everything is set for your upcoming visit. If you're in search of the best food in Budapest, make sure to secure your reservation at Laurel Budapest and indulge in our exquisite menu!
Making a reservation at Laurel Restaurant Budapest has never been easier. Whether you choose to reserve your table via our website, through a direct e-mail inquiry, or by speaking with our staff over the phone, Laurel caters to your preferred method. So, take advantage of these convenient reservation options and guarantee yourself an extraordinary fine dining experience at Laurel Budapest restaurant. Don't wait—book your table today and get ready to savour one of the best Hungarian fine dining dinner or lunch in a vibrant atmosphere of Budapest.
What are the operating hours of Laurel Budapest?
Laurel Budapest invites discerning diners to embark on a culinary adventure filled with exceptional flavors and innovative menus. With a range of enticing options, this renowned restaurant offers an unforgettable fine dining experience. From their enticing chef menu to a completely plant-based vegan degustation menu, Laurel caters to diverse preferences. Whether you prefer dinner or a delightful lunch, Laurel Budapest provides a memorable dining experience, available on select days and times.
For those seeking an extraordinary dinner experience, Laurel Budapest fine dining restaurant opens its doors from Thursday to Saturday. The restaurant offers a captivating chef menu that showcases the culinary artistry of their talented chefs. From tantalizing appetizers to sumptuous main courses and delectable desserts, each dish is crafted with precision and finesse. The dinner service at Laurel Restaurant Budapest begins with the first arrival time at 18:30 and concludes with the last seating at 20:30, ensuring a leisurely and immersive dining experience.
Recognizing the growing popularity of plant-based dining, Laurel Budapest presents a remarkable completely plant-based vegan degustation menu. Crafted with meticulous attention to detail, this menu offers a harmonious blend of flavours and textures that are sure to delight vegans and non-vegans alike. Immerse yourself in a culinary journey that showcases the incredible possibilities of plant-based cuisine, all while savouring the magnificent atmosphere of Budapest.
Laurel Budapest also offers a delightful lunch experience, which is a shortened version of their tasting menu. Guests can indulge in the flavors of the chef's creations during lunchtime on the weekends, specifically from Saturday to Sunday. The lunch service provides a wonderful opportunity to experience Laurel Budapest's culinary prowess in a more condensed format. The lunch hours are between 12:30 and 13:30, allowing guests to enjoy a delectable midday meal.
Beyond the culinary delights, Laurel Restaurant Budapest prides itself on providing an immersive atmosphere and exquisite service. The restaurant's ambiance reflects a harmonious blend of contemporary elegance and warm hospitality. Attentive staff members guide guests through their culinary journey, ensuring a seamless and unforgettable dining experience. Whether it's an intimate dinner or a leisurely lunch, Laurel Budapest creates a welcoming and refined setting for all who visit.
The Dining Guide Top 10 Hungarian restaurants awarded Laurel Budapest stands as a culinary destination that delights the senses and creates lasting memories. From their remarkable dinner service, featuring the chef menu and plant-based vegan degustation menu, to the delightful lunch experience, Laurel Budapest offers a range of dining options that cater to diverse preferences. Immerse yourself in the exceptional flavours and immersive atmosphere of Budapest as you savor the culinary artistry that Laurel Budapest brings to the table.
For an extraordinary dining experience and the chance to taste the best food in Budapest, don't forget to reserve a table at Laurel Budapest in advance.
Does Laurel Budapest restaurant host events or live music?
At Laurel Budapest restaurant, guests can indulge in a delightful dining experience that is focused solely on culinary excellence. While the restaurant itself does not host live music, the vibrant spirit of Laurel extends to its affiliated venue, the Laurel Tresor Club. This club organizes monthly thematic events, showcasing a variety of unique wines, champagnes, and occasionally even whiskies. The events are enhanced by the expertise of the two-times sommelier champion of Hungary, Péter Tüű, who presents these exceptional beverages. Alongside the tastings, the talented chefs of Laurel, Zsuzsanna Ötvös and Dávid Szabó create an exceptional dinner menu that perfectly complements the featured wines or champagnes, ensuring a truly unforgettable gastronomic experience for all attendees.
Whether you're celebrating a special occasion or simply seeking an unforgettable dining experience, the Laurel, one of the top restaurant Budapest guarantees a culinary journey you won't soon forget.
Does Laurel Budapest offer takeout or delivery services?
Laurel Budapest restaurant does not offer takeout or delivery services. The best way to experience one of the best fine dining menus in Budapest is by visiting this Michelin-recommended restaurant in person.